Dubai is a relatively new developed tourist destinations. The lack of information makes many people are still reluctant to visit Dubai. Hong Kong and Singapore seem to be more popular.
But Dubai has many great things compared to other famous tourist destinations. It is strategically located, right in the middle of international flight routes that link the western and eastern regions of the world. This makes Dubai very suitable transit tourist sites.
For enthusiasts of religious tourism, there is a good start to glance at Dubai as a place that should be visited. Religious tourism destinations such as Jerusalem, Turkey, Jordan and Egypt, located quite close to Dubai. And do not forget, Jeddah and Medina can be reached by a short flight from Dubai. Why not?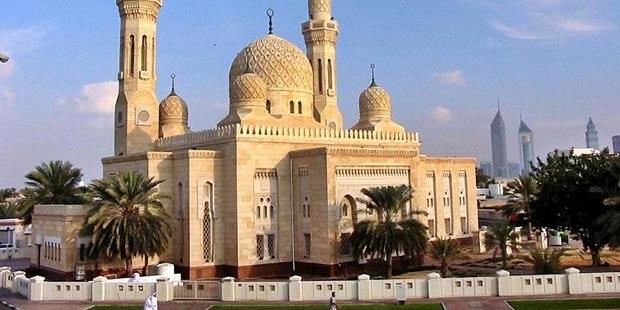 If you are interested to visit Dubai, it's worth to spend some minutes to read these tips.
The best time to visit Dubai
Dubai is located in the area of ​​the temperate zone of the subtropical desert. The climate in Dubai has a striking difference between summer and winter. During summer (June-September), air temperature during the day can reach 45 degrees Celsius. While in the winter (December-February), temperatures can be below 10 degrees Celsius at night. In mountainous areas have been reported even snowing!
The best time to visit Dubai is around November to March. When visiting at the height of winter, make sure you bring a jacket or sweater to stay comfortable while walking. If you happen to visit at the height of summer, activity to do outdoors will be limited. But you can still enjoy a huge mall in Dubai which offers plenty of indoor activities.
What about the cultures?
Dubai is the largest city in the United Arab Emirates, located in the Arabian peninsula. Although Arab countries are known to be conservative, the atmosphere in Dubai was very liberal and cosmopolitan. Dubai natives are called Emiratis, they are only about 10 percent of the population and the rest are expatriates from all over the world. No wonder that this city is very multicultural feel, even a city which population is one of the most diverse in the world.
Although women with sexy dress are common sight in Dubai, there is a group of people which still maintains a strong tradition. Emirati women usually wear an "abaya", the long dress all in black color. The other group using a veil covering their faces. This scene is contrasted with an atmosphere that is so modern Dubai. However, you still have to appreciate this community.
As a form of respect for local traditions, you should wear clothing that is simple and not too open. For women, you should not wear a shirt with an open back or too short hot pants. For men, avoid wearing pants that are too short. Manager of the mall is usually put a sticker at the entrance which contains advice for visitors to wear clothing that respects local traditions.
What we should aware of during Ramadan?
Dubai has a quite large non-Muslim community. They are mostly expatriates from Europe, the Philippines and India. However, Islam is the official state religion and embraced by nearly all Emiratis. Therefore, there is a fairly strict rules on matters relating to Islamic rituals.
For those who do not fast, is not expected to eat and drink in public during Ramadan. If you get caught eating in public, employees or security personnel at the site would immediately reprimand you. If you do not respond positively to the rebuke, employee or security officer is entitled to report you to the police. The threat of jail a few months of his sentence in jail!
Is it possible to enjoy alcoholic beverages?
It is not only driving license, but you need alcohol licenses. The Dubai government issued alcohol licenses for only non-Muslim expatriates. Without the license, you are not allowed to buy alcoholic beverages.
Although it sounds a bit tight, you can buy alcoholic beverages at the airport duty free shop in Dubai without showing a license. Upscale restaurants also serve liquor, but may only be purchased in limited quantities. You are strictly prohibited alcohol consumption in public places. The threat is also imprisonment. source: Kompas